WINTER 2021 RESIDENTIAL WRITING RETREAT
PhD Residential Structured Writing Retreat at The Abbey, Sutton Courtenay
15th – 17th December 2021
What does a writing retreat involve?
The structured writing retreats are designed to provide the opportunities to write and work on outputs, in an optimal environment. The writing model is based on the structured-writing retreat format (Murray and Newton, 2009). The aim of the programme is very much to provide and enforce research/writing time, in a relaxed, supportive and peaceful group environment. Desks are well spaced out, while writing together, during prescribed time-slots.
While it is a non-surveillance environment with regards to what you do, there are some rules. The first is that you are sitting down and ready to write at the start of each session. The second is that mobile phones are put away out of sight (and sound), and you DO NOT check email or use the internet during the writing sessions (we would recommend no Internet for complete immersion). Research has shown that the retreats are most productive if relevant article searching and downloading has been done in advance. The final rule is that research work/writing is carried out in silence (or with headphones that do not produce sound that could disturb other writers).
Writing retreats are run by Dr Alison Eardley (School of Social Sciences) and Dr Lisa Matthewman (Business School), who are trained writing retreat facilitators. The retreats are designed to provide a restful and relaxing space to write, meet other PhD researchers and talk about research and life outside PhDs. We all write together (in the beautiful main hall), and you will write during specific timed sessions, and take breaks at specific times.
The Abbey is a beautiful place, surrounded by lovely countryside, and part of the programme will involve (optional) pre-lunch walks (bring waterproofs!), and (optional) yoga sessions by qualified yoga instructor (and Psychology Reader) Tina Cartwright. After dinner, there will also be (optional) mindfulness activities For anyone who doesn't want to walk/do yoga/mindfulness, you also have your private room to retire to.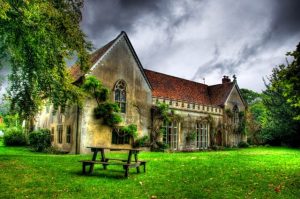 NOTE ON COVID-19
The writing room is large and airy (see photo below), and all attendees will have their own writing table. Masks and/or other requirements may be required when moving around the indoor space. If you are offered a place, but find you are exhibiting covid-19 symptoms (a new continuous cough, a high temperature or loss or change to your sense of smell or taste) or have been in direct contact with someone who is exhibiting covid-19 symptoms and are not vaccinated, you will not be able to join us. We will operate a waiting list, both for other PhD researchers who would like to attend, and for any candidates in the writing-up phase.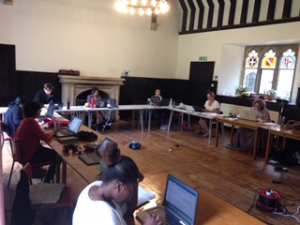 The Venue
All food at the Abbey is vegetarian (and delicious). There is a living room in the annex (where most bedrooms are located), but masks will have to be worn in this space. There is also a pub a short walk from the Abbey. The accommodation is in basic – single rooms (with shared toilet and shower facilities).
There will be an application process. We will have a waiting list, in case of last minute Covid-related cancellations/increased capacity as a result of changes in the Covid regulations. Whatever the stage of your PhD, please do feel free to apply. Priority will be given to people who feel like the retreat will impact positively on their PhD writing and on their wellbeing, so please do consider applying whatever the stage of your research project.
Retreat places are funded but attendees will need to claim back travel costs from the Graduate School (there is parking onsite for anyone wishing to drive). Please do not book travel more than a few days in advance, to mitigate against the possibility of last-minute changes as a result of Covid.
If there are more applicants than places, the application form will help the Graduate School to allocate places. The questions they will focus on will be (in order of importance):
a) How the retreat will benefit your wellbeing
b) What piece of PhD writing you want to work on and why
c) How the opportunity will benefit your PhD journey.
Please submit your application by: 5pm, 30th November.
Winter Retreat Timetable
Day 1: Wednesday 15 December 2021
10.00am arrive, set up, grab a drink, sitting down ready to start
10.30am – Start: Introductions and writing session 1
11.45pm – Break
12.00pm – Writing session 2
1.00 pm – Lunch
2.00pm – Writing session 2
3.30pm – Break
4.00pm – 5.30pm Writing session 3
5.45-6.45pm – Optional yoga
7pm – Dinner
8pm – Optional mindfulness activities
Day 2: Thursday 16 December 2021
7.30-8.15am – Breakfast (arrive when you choose but make sure you are at your desk ready to write at 8.30am)
8.30am – Writing session 1
10.15am – Break
10.45am – Writing session 2
12pm – Walk (optional)
1pm – Lunch & Washing up
2pm – writing session 3
3.30pm – tea break
4.00pm – 5.30pm Writing session 4
5.45pm – Optional Yoga
7pm Dinner
8pm – Optional mindfulness activities
Day 3: Friday 17 December 2021
7.30-8.15am – Breakfast
8.15-8.30am – washing up
8.30am – Writing session 1
10.15am – Break
10.45am – Writing session 2
12pm – Optional Walk
1pm – Lunch & Washing up
2pm – writing session 3
3.30pm – tea break/ end of retreat round up
4pm – end of retreat/taxis to the station