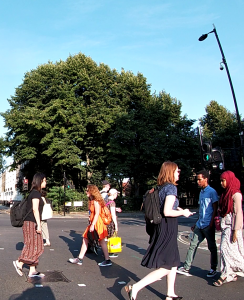 Welcome to the Active Travel Academy at the University of Westminster. Initially set up in September 2019 with a substantial initial investment of over £500,000 over three years by the Quintin Hogg Trust, the ATA brings together a broad spectrum of expertise to lead research, teaching and knowledge exchange on walking, wheeling, cycling and other active modes, use of  'micromobilities', and reduction in car use. It is now largely funded by external grants including from the National Institute for Health and Care Research, Department for Transport, and Transport for London.
We launched the successful, Platinum Open Access journal Active Travel Studies, which has now published over 30 peer-reviewed articles. We run regular seminar/webinar series Walking@Teatime and Cycling@Teatime, host the Active Travel Podcast, and contribute to and/or run a range of events and activities, many free of charge to attend. We contribute to teaching at Westminster, especially the MSc Transport Planning and Management, and supervise PhD students.
The Academy believes all disciplines and expertise are needed to address the acute global problems that car dominated transport systems have created. It brings together practitioners, academics, students and others with an interest or expertise in active travel. The ATA contributes to addressing issues around air pollution, climate breakdown, an inactivity epidemic, road injuries and deaths, unequal access to transport and the loss of independent mobility in childhood and at older ages. It takes a critical approach to pressing policy problems, drawing on a wide range of tools and  methods, from Big Data to (auto)ethnography.
Watch our short film made soon after we launched to introduce our work, with or without subtitles:
Contact us: activetravelacademy@westminster.ac.uk
Find us on Twitter: https://twitter.com/Active_ATA
University of Westminster 309 Regent Street, London W1B 2UW General enquiries: +44 (0)20 7911 5000 Course enquiries: +44 (0)20 7915 5511 The University of Westminster is a charity and a company limited by guarantee. Registration number: 977818 England