Monday 26th July – Active Mobility With and By Children
Today's theme is 'Active Mobility With and By Children'.
You can watch the content at anytime today and return to watch it again in future, though we recommend seeing everything before the live panel discussion session at 2pm this afternoon.  You are invited to submit questions ahead of this time using the link below.
---
Presentation
Cycling@Tea-time – The fine art of cycling with children [opens in new window]
---
Virtual Screening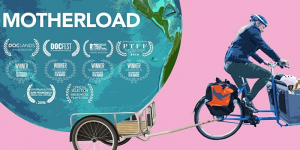 Book via Eventbrite  [opens in new window]
---
2pm – Panel Discussion
A panel discussion bringing together expertise from child-friendly planning, children's independent travel, family cycling, and active travel.
This panel has now finished, but you can Watch the Recording
Panel:
Jenny Wood (A Place in Childhood/Herriot-Watt University) 
Nafsika Michail (Sustrans/University of Northumbria)
Beth Barker-Stock (Senior Cycling and Walking Officer, BCP)
Chair: Holly Weir (Active Travel Academy). 
---
Further reading & resources
Websites and Organisations
A Place in Childhood – "We help make Scotland a great place to grow up by supporting our young citizens to participate in projects and help create more inclusive policies, services and environments."
JoyRiders – "Empowering women by introducing them to the joys of cycling."
Motherload – "An award-winning documentary that uses the cargo bike as the vehicle for exploring parenthood in this digital age of climate change."
Play England – "Play England campaigns for all children and young people to have freedom and space to play throughout childhood."
PlayingOut –  "A parent and resident led movement restoring children's freedom to play out in the streets and spaces where they live, for their health, happiness and sense of belonging"
Academic and Grey Literature
Gill, Tim. 2008. 'Space-Oriented Children's Policy: Creating Child-Friendly Communities to Improve Children's Well-Being'. Children & Society 22 (2): 136–42. https://doi.org/10.1111/j.1099-0860.2007.00139.x Also available Open Access from Academia.edu.
Khan, M., Bell, S., and Wood, J., eds., 2020. Place, Pedagogy and Play. New York: Routledge, 2020.: Routledge, https://www.taylorfrancis.com/books/9780429659881
Krishnamurthy et al (2018) Child-Friendly Urban Design. Bernard Van Leer Foundation. Available at: https://bernardvanleer.org/publications-reports/child-friendlyurban-design-observations-on-public-space-from-eindhoven-nl-and-jerusalem-il/?platform=hootsuite
Michail, N., Ozbil, A., Parnell, R., and Wilkie, S., 2021. Children's Experiences of Their Journey to School: Integrating Behaviour Change Frameworks to Inform the Role of the Built Environment in Active School Travel Promotion. International Journal of Environmental Research and Public Health, 18 (9), 4992, https://www.mdpi.com/1660-4601/18/9/4992. Also available Open Access from MDPI.com.
Whitzman, C., Worthington, M., Mizrachi, D. (2010) The Journey and the Destination Matter: Child Friendly Cities and Children's Right to the City. Built Environment 36, 474–486. https://doi.org/10.2148/benv.36.4.474. Also available Open Access from ResearchGate.net.
Williams et al (2017) Cities Alive: designing for urban childhoods. Arup. Available at: https://www.arup.com/perspectives/publications/research/section/cities-alivedesigning-for-urban-childhoods
University of Westminster 309 Regent Street, London W1B 2UW General enquiries: +44 (0)20 7911 5000 Course enquiries: +44 (0)20 7915 5511 The University of Westminster is a charity and a company limited by guarantee. Registration number: 977818 England