Listen to the podcast episode or download the transcript.
Show notes by James Stevenson, ATA podcast intern
Rachel sat down with Matt C. Smith – they are a doctoral researcher at the University of Brighton. Rachel came across Matt's work while listening to them present at the RGS-IBG research conference.
Matt's first academic paper based on this research is now available!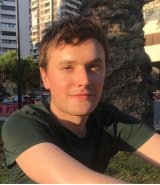 Matt's PhD research investigates trans and non-binary experiences in the urban spaces of Brighton and Hove. Acutely there are two specific research areas; analysis of how trans features within planning policy in the city of Brighton and Hove and then looking at the experiences of trans and non-binary residents using creative mapping sessions.
Matt's methodology was to design creative workshops for participants to engage with. Taking their cue from Robyn Longhurst's work in Urban Theory – highlighting the phrase 'Geographies closest In' – Matt began exploring the participant's lived experiences, and personal memories, building outward to the more spatialised, city-wide experience. Matt references Arnstein's 'Ladder of Participation' as an influence on thinking about the research and about planning policy-making.
Matt's research highlighted the concept of trans infrastructure, citing the work done by Ben Campkin and Lo Marshall charting the developments of LGBTQ+ cultural infrastructure in London. Notably, participants sought a relative safety in the city, travelling to the centre for amenities and community, but for some it was in peripheral outdoor spaces where they felt most comfortable. As a marginalised group, living on the city's boundaries is remarkably apt. Brighton and Hove is an affluent city with also some of the most deprived neighbourhoods nationally with a population of almost 300,000. The city has areas promoted as cultural quarters; the Kemptown area of Brighton is well-known and a popular destination for LGBTQ+ people and businesses.
Brighton and Hove has, since the 1970s, been a place people were advised to go to live for two years in the early stages of transition. This fascinating insight into the history of Brighton and Hove brings into question the notions of the gaze. Trans and LGBTQ+ communities are key to place-making processes in the city, with annual celebrations such as Trans Pride and the longer-running LGBTQ+ Pride. During the summer, the City comes alive with a huge influx of tourists and holidaymakers and with this seasonal change becomes new experiences, who are watching, and how the trans community are being read, are the visitors to Brighton and Hove, as welcoming and accepting as the residents?
Creative Mapping within Matt's research workshops through storyboarding and creativity allowed each participant to tell their story of the city; along with Body Mapping (Body Mapping is the process of creating body maps using drawing, painting, or other art-based techniques to visually represent aspects of people's lives, their bodies and the world they live in). Matt's adaptation to the workshops due to Covid provided certain advantages – as online communication and time between sessions were less. This raises the value and importance of research flexibility and listening to the participants, letting them guide the results.
Kemptown was cited as being Brighton's Gay Village in planning discourse in 2006, before that recognition was removed in 2011. The nudist beach is a place that has also become a popular place for LGBTQ+ people to feel accepted and to be their true authentic selves. These areas feel like they need to be understood and fought for in planning policy and integrated into the consciousness of town planners and architects. These areas feel like they need to be protected and fought for in planning policy and integrated into the consciousness of town planners and architects. Matt cites Carol Bacchi and role of post-structural analysis in unpacking planning policy – how problems are being constructed.
Matt reflects on what they may have done differently, and looking forward they would ideally like to employ facilitators to run the creative workshops and open the participant pool to a wider cross-section of people based on age, race, and disability. They leave us with some emotive thoughts:
Engaging more substantially with trans people's experiences and voices, and seeking to understand also how perhaps your (planners) practice is articulating different forms of social difference, and will the way it's being done increase liveability for those groups at the moment? Do you have to transform planning practices a bit more substantially?
Some authors cited by Matt in the podcast:
Ben Campkin and Lo Marshall's work on LGBTQ cultural infrastructure – e.g. https://www.ucl.ac.uk/urban-lab/docs/LGBTQ_cultural_infrastructure_in_London_nightlife_venues_2006_to_the_present.pdf
Town and Country Planning Association – Beyond Box-Ticking: a short guide to meaningful assessing Local Plan policy impacts on equality and inclusion, https://tcpa.org.uk/resources/beyond-box-ticking-a-short-guide-to-meaningful-assessing-local-plan-policy-impacts-on-equality-and-inclusion/
Jason Lim and Kath Browne's work on trans identities and a 'sense of gender' – e.g. https://www.socresonline.org.uk/14/1/6.html
Alison Bain and Julie Podmore's concept of 'coalitional moments' – e.g. https://onlinelibrary.wiley.com/doi/full/10.1111/1468-2427.13121
Carol Bacchi and Susan Goodwin, Poststructural Policy Analysis: A Guide to Practice, https://link.springer.com/book/10.1057/978-1-137-52546-8
(For those interested in cycling, here's Bonham and Bacchi on discourses of cycling and cyclists – https://journals.sagepub.com/doi/pdf/10.1177/1440783317715805)
More information on Matt's project with Zoe Boden-Stuart & Nick McGlynn on LGBTQ migration can be found at – https://research.brighton.ac.uk/en/publications/lgbtq-migration-social-isolation-and-distress-liberation-care-and
Also referred to – The Actors Pub, worth a visit if you are in Brighton!
Latest posts by Rachel Aldred (see all)