Nancy Smith Lea is the Director of The Centre for Active Transportation (TCAT) at Clean Air Partnership, a registered environmental Canadian charity. For 25 years, she has been a leader and catalyst for cycling and walking in and beyond Toronto, Canada. As Director of TCAT since 2008, Nancy has published several articles and led numerous research projects aimed at improving understanding and conditions for active transportation.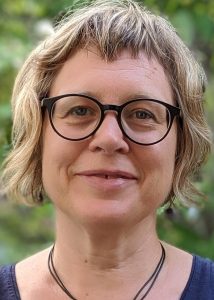 Nancy serves as a transportation advisor to the City of Toronto, and other Canadian municipalities, to help to achieve their active transportation goals and to advance cycling. She is regularly invited to speak about her active transportation work at conferences and other public events, and as a guest university lecturer. She has been a recipient of several awards for her leadership in the field and as an extraordinary woman city builder and change maker.
ATA collaboration
Nancy welcomes this exciting opportunity to connect with like-minded colleagues working to advance safe streets and cycling infrastructure in big cities. She looks forward to the time to study, reflect, and write about evidence-based practice that informs challenging topics many global cities face. Topics of interest currently include: 1) examining the evidence (or lack thereof) of injury prevention for people walking and cycling wearing high-visibility clothing; 2) exploring safe systems approaches for improving the safety of older adults while walking, and 3) digging into the ATA's Near Miss Project and other studies that can help to inform about why people stop cycling.
While at the Active Travel Academy, Nancy will present three short seminars: 1) "Making the Tradeoffs on London's worst streets for cycling using the Complete Streets Game". Nancy led the development of TCAT's Complete Streets Game, an interactive tool to help community members work together to redesign their streets; 2) "How to Incubate Cycling Beyond Central Business Districts: Building Suburban Bike Culture". Nancy will share a four-step model to target suburban neighbourhoods with cycling potential, address and remove barriers, and spark and sustain cycling; and 3) "Measuring the Local Economic Impacts of Replacing On-Street Parking with Bike Lanes". In 2019, TCAT's research into the impact of Toronto's bike lane pilot project on Bloor Street was published in the Journal of the American Planning Association.
University of Westminster 309 Regent Street, London W1B 2UW General enquiries: +44 (0)20 7911 5000 Course enquiries: +44 (0)20 7915 5511 The University of Westminster is a charity and a company limited by guarantee. Registration number: 977818 England