by Charlie Couve, Ersilia Verlinghieri and Tiffany Lam
In January 2023 we published the results of a research project looking at working conditions in the cargo bike sector. The report Delivering Good Work: Labour, employment and wellbeing in London's cargo bike sector shed light on the current state of the cargo bike sector in London. It highlighted the challenges faced by both managers and riders, and provided over 45 recommendations to address these challenges.
Building on this work, our second report in the 'Delivering Good Work' series funded by Impact on Urban Health, provides further insight on coordinated actions that different stakeholders need to take to scale up the sector while ensuring good work.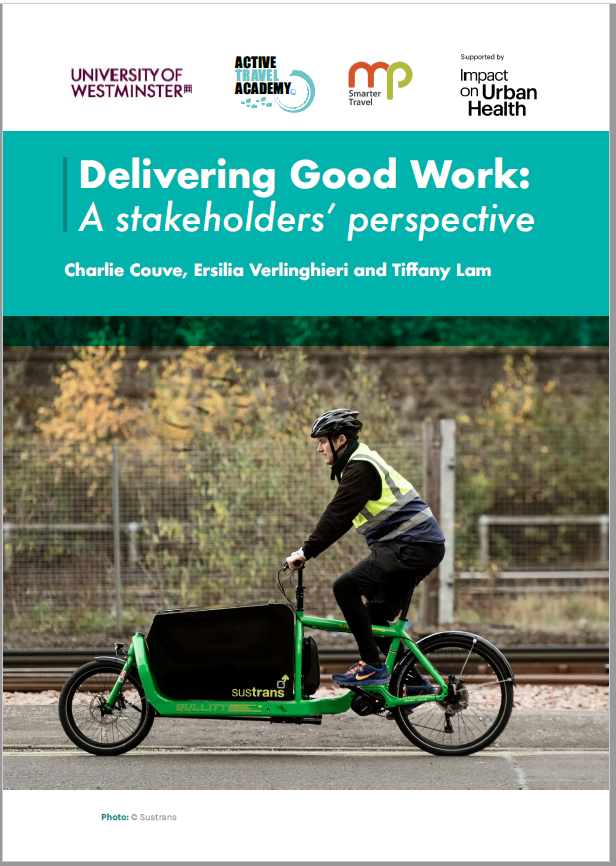 Based on follow-up focus groups with cargo bike operators in London and a range of local and national stakeholders, the report further clarifies the issues facing managers, including difficulties with recruitment and retention, rising operating costs coupled with the withdrawal of government financial support, and widespread doubt around the potential of cargo bikes among prospective clients and other stakeholders.
The report shows also that there is a collective appetite for change and ambition to improve employment standards in the sector among managers and other stakeholders. Since the publication of our previous report, managers took important actions to improve working conditions. However, there is need for further coordinated action around three key areas:
develop working standards and road safety
improve collaboration and consistency across the sector
and create more support and visibility for the sector.
Read the first report of this series at this link.
Read our previous work on the promise of cargo bikes at this link.
Latest posts by everlinghieri (see all)