Diasporic Chinese Museums Network Initiative Public Talk Series – Inaugural Talk
全球华侨华人博物馆协作项目线上讲座系列 第一讲
Museum across borders: toward a dialogical approach to museum representations of Chinese diasporas around the world
他山之石:建构一个华侨华人博物馆研究与实践的对话空间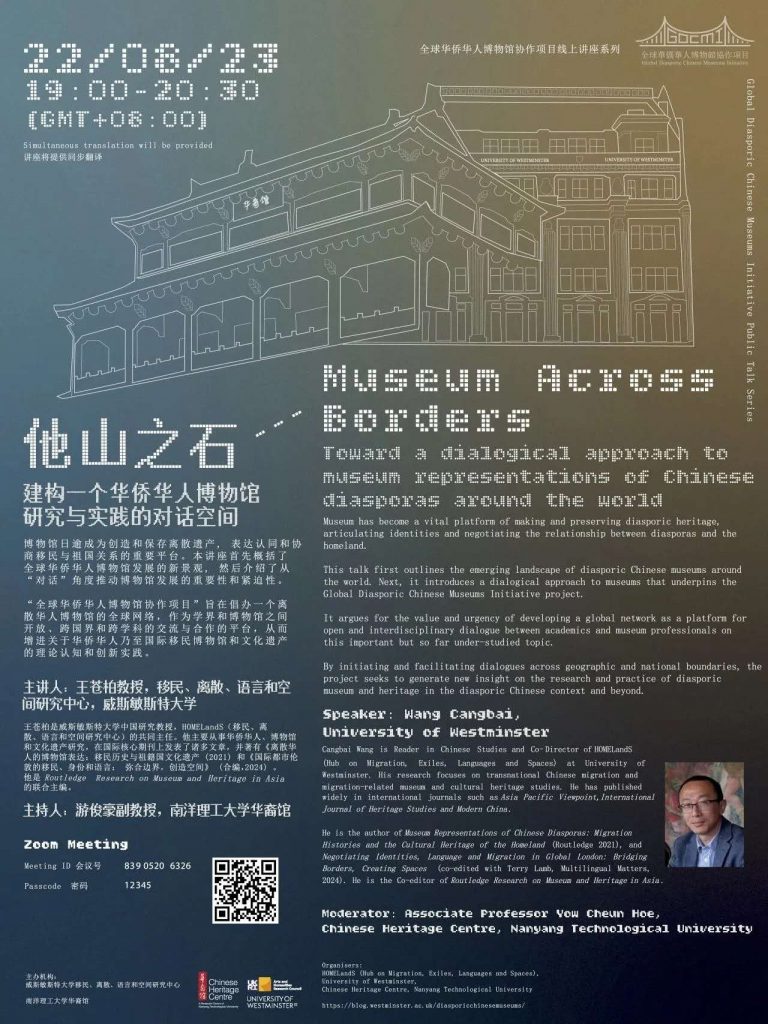 Date: Tue 22 August 2023
Time: 12:00 pm to 13:30 pm (BST)
Venue: Online
Zoom ID: 839 0520 6326
Password: 12345
Chair: Associate Professor Yow Cheun Hoe, Chinese Heritage Centre, Nanyang Technological University
Speaker: Dr. Cangbai Wang, University of Westminster
Museum has become a vital platform of making and preserving diasporic heritage, articulating identities and negotiating the relationship between diasporas and the homeland. This talk first outlines the emerging landscape of diasporic Chinese museums around the world. Next, it introduces a dialogical approach to museums that underpins the 'Global Diasporic Chinese Museums Initiative' project. It argues for the value and urgency of developing a global network as a platform for open and interdisciplinary dialogue between academics and museum professionals on this important but so far under-studied topic. By initiating and facilitating dialogues across geographic and national boundaries, the project seeks to generate new insight on the research and practice of diasporic museum and heritage in the diasporic Chinese context and beyond.
About the speaker:
Cangbai Wang is Reader in Chinese Studies and Co-leader of HOMELandS (Hub on Migration, Exiles, Languages and Spaces) at University of Westminster. His research focuses on transnational Chinese migration and migration-related museum and cultural heritage studies. He has published widely in international journals. His is the author of Museum Representations of Chinese Diasporas: Migration Histories and the Cultural Heritage of the Homeland (Routledge 2020), and Negotiating Identities, Language and Migration in Global London: Bridging Borders, Creating Spaces (co-edited with Terry Lamb, Multilingual Matters, 2024). He is the Co-editor of Routledge Research on Museum and Heritage in Asia.
This is the opening talk of a public talk series on diasporic Chinese museums organised as part a project titled "Diasporic Chinese Museums Network Initiative' funded by AHRC. It is led by Dr. Cangbai Wang (University of Westminster) and Dr. Yow Cheun Hoe (Nanyang Technological University) together with Dr. Huimei Zhang (Nanyang Technological University). The project network includes UK and international participants of diverse backgrounds, many of whom work in the field of diasporic Chinese museum and heritage industry. The main objectives steering this research project are:
-To establish, facilitate, and strengthen worldwide connections between museums which feature artefacts and exhibitions pertaining to the Chinese diaspora.
-To exchange experiences and ideas of how museums engage in collecting, curating, preservation, public engagement and education, for a better understanding and promotion of diasporic Chinese histories and to facilitate the development of diasporic Chinese communities in the host countries and their cultural exchange with China.
-To enhance cooperation between museums for exhibitions, forums and other formats of events.
-To promote collaboration between museum scholars, museum practitioners and policymakers toward the development of a 'diasporic Chinese museology', contributing to the interdisciplinary research of migration and museums in the Chinese context and beyond.
The public talk series is jointly organised by HOMELandS (Hub On Migration, Exiles, Languages and Spaces) at University of Westminster and the Chinese Heritage Centre of Nanyang Technological University, Singapore.
More information about the research project is available here: https://blog.westminster.ac.uk/diasporicchinesemuseums